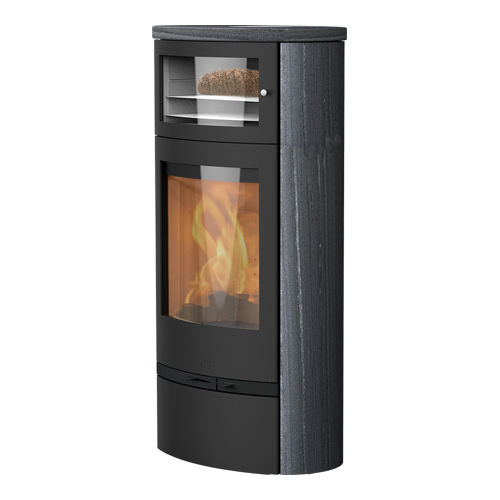 Jubilee 35 Oven Eco
---
Sizes:
width: 726.00mm
height: 1422.00mm
depth: 454.00mm
Heat output: 7.00 kW
Material: Steel
---
Available colors
---
Available versions
Woodburning
External air supply kit
---
Nominal heat output and range 7kW (4 - 10kW)
Eco Design ready
Lotus Jubilee truly is a powerhouse of a stove, but it is also possible to add a cooking section, which opens up brand new possibilities for cooking food and baking bread. The cooking section has practical shelves and sections like in an ordinary oven. If you want to store the heat - for even heat distribution over a longer period - the Jubilee comes with Indian Night and soapstone, for example model Jubilee 35 M.

The huge combustion chamber accommodates logs up to 50 cm in length. The frame on the back of the door is made of cast iron for optimum durability and strength. The combustion chamber, which is made of moulded Skamolex, is designed to take large volumes of wood. All this ensures that the heat is utilised to optimum effect. User-friendliness is designed into every detail, and the control levers are neatly integrated above the narrow wood storage compartment, which can be used for kindling materials and accessories. The large solid door opens easily.

Jubilee 35 is for those who want the experience of a large fire - with a unique play of flames and high heat output.